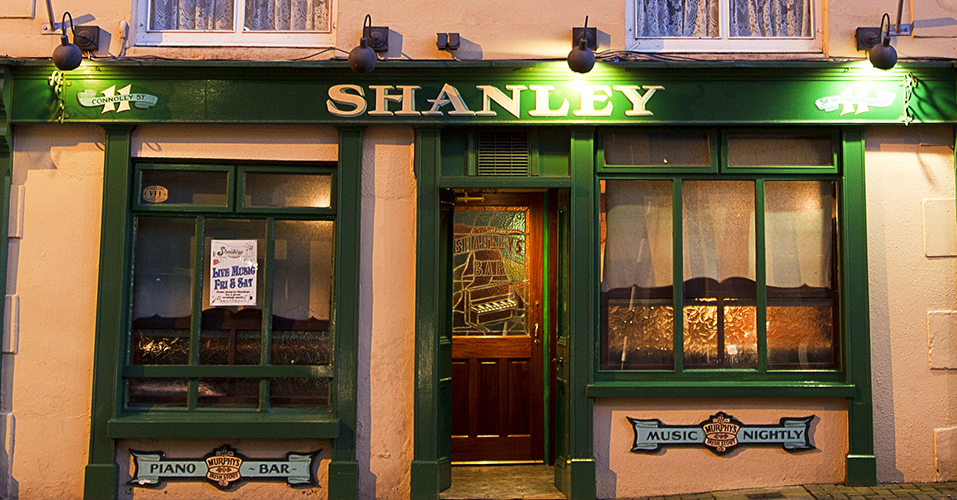 BRILLIANT BEER, FINE WINE, TOP MUSIC
& THE BEST OF COMPANY – WAITING FOR YOU!
Shanley's Bar, situated in the heart of the picturesque town of Clonakilty, West Cork, has been in the Shanley Family since 1904 and is a renowned music venue.
THE SHANLEY SESSIONS… HERE NOW!
A nine week series featuring 22 artists
performing at Shanley's Bar.
Watch Episodes of The Shanley Sessions
Enjoy live music from this renowned music venue,
from anywhere in the world!
Shanley's bar, situated in the heart of the picturesque town of Clonakilty has been family owned since 1904, and is a renowned music venue. There has been a long tradition of live music from local and international artists appearing at Shanley's over the last 40 years. It has played a key role in the thriving music scene in Clonakilty since the late 1970's.
Through the LPSS, funded by the Department of Tourism, Culture, Arts, Gaeltacht, Sport and Media, Shanley's restarts the tradition of bringing music to the community and hosting artists as they come together and play live again through 'The Shanley Sessions'.
The Shanley Sessions will consist of 9 weekly streamed performances and interviews from the venue, showcasing over 22 artists and bands, some early in their careers and others that are more established, all of whom have a connection with the town or the bar and reflect the quality and spirit of collaboration which has always been central to Shanley's live music performances over the years.
Artists on the line-up include:
Bill Shanley & Band, Declan Sinnott and Hank Wedel, Diarmuid Cahill, DreamBeam, Eleanor McEvoy, Eleanor Shanley with Mike Hanrahan, Eugene Brosnan & The Innocent Bystanders, Eve Clague, Fiona Kennedy, Gavin Povey & Band, Johnny Neville & Jim Murray, Johnny McEvoy, Michael McGovern, Niamh Kavanagh, Blue Train, Paul Harrington, QUIET, Richard Nelson Trio, Roy Harper, Paddy Sherlock, Sam Clague, Shanley's House Band, Starlight Wranglers, Wayward Folk & more.
Shanleys Bar
Shanleys bar is a traditional pub with a fantastic live music reputation. Live music every Thursday